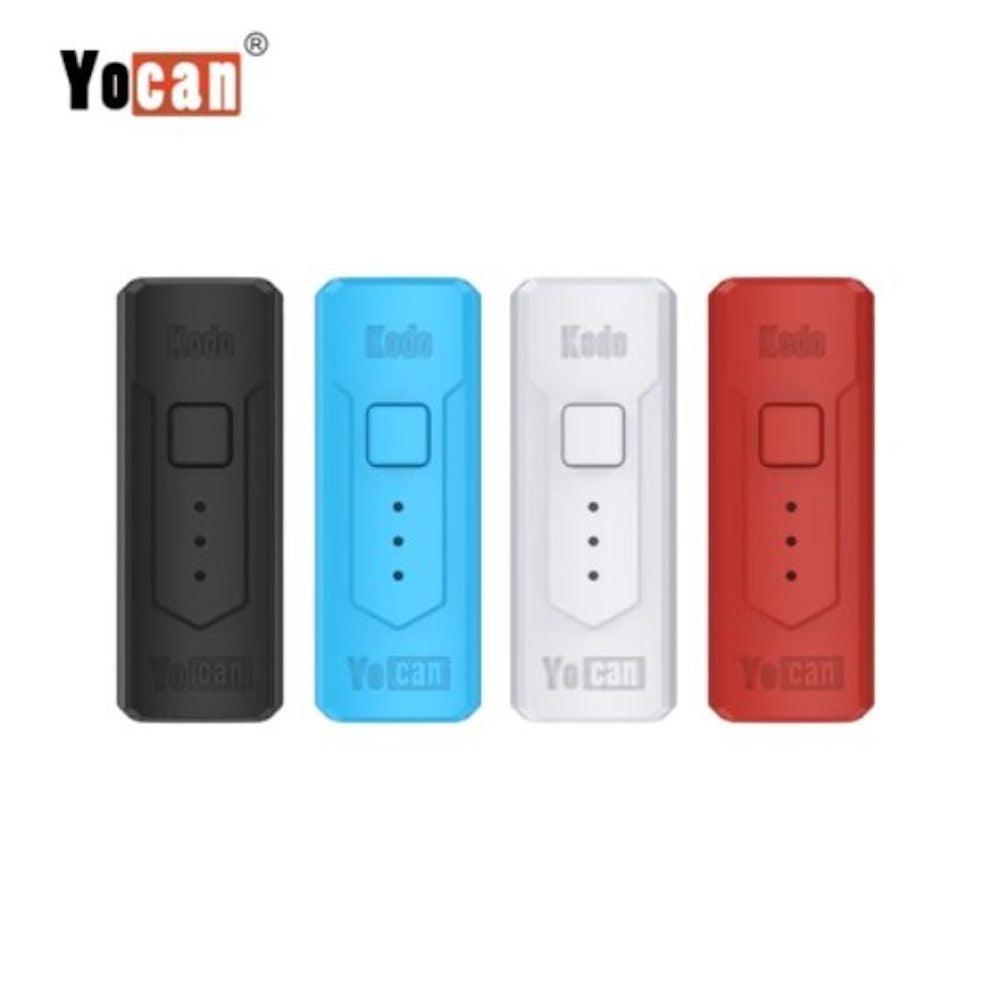 Yocan Kodo 510 Battery
101050648972
---
In stock, ready to ship

Inventory on the way
Pocket Sized 510 Cartridge Mod Box
The Yocan Kodo Box Mod is a stylish cartridge battery for 510-threaded cartridges. It can accommodate almost all cartridges since it has no chamber and the cartridges sit atop the vaporizer battery. This allows consumers to use different cartridges with different widths freeing you from the restrictions of other devices. The Yocan Kodo Box Mod keeps your sessions stylish and chic with its solid colors. It's also easy to use and operate making it the best cartridge battery for beginners and even advanced users who desire convenience and stylish vaping without the hassle of using complicated devices. The Yocan Kodo Box Mod makes for an effective cartridge battery for people who want convenient vaping with their friends.
The Yocan Kodo Box Mod can fit in almost any pocket because of its dimensions. You can take it with you almost anywhere you go and enjoy the experience of using a compact and stylish vaporizer you can conceal at the palm of your hands. Each Yocan Kodo Box Mod is made from the best materials the industry can offer and while they are made from high-quality components, they remain affordable and easy to buy so that many consumers can get access to a reliable cartridge battery that they can use. The Yocan Kodo Box Mod is outfitted with three temperature settings which let you change the temperature level of the vaporizer. It's made with a single button so you won't get confused using this cartridge battery. The layout of the button and the LED lights that indicate the power level of the Yocan Kodo Box Mod is laid out carefully so as not to distract you from what you see on the front-facing side of the unit. The micro USB charging port of the Yocan Kodo Box Mod is located at the bottom so as not to obstruct or get in the way of the buttons.
Before placing an order through our store, we recommend carefully researching the product you intend to purchase. If you would like any additional information about a product before making a purchase, please contact us. We have a team of friendly, experienced, and very knowledgeable Customer Service Representatives standing by who are happy to help you find the perfect smoking accessory .
If you receive damaged goods (or a non-working unit) in your order, or were shorted anything please contact us within 48 hours, so we can arrange a return and claim. Because of the personal nature of many of our products, we do not accept returns on items unless they are damaged in shipping. However, if you are unsatisfied with any product purchased from us, we encourage you to contact our customer service representatives
Shipping times are an estimate and we will try to get your package to you on time or even earlier.  However due to unforseen circumstances we cannot guarantee that all packages will arrive in the time frame indicated.
All orders made on the website will be sent out on either Tuesday or Friday, depending on time of order.  If you need your order to go out sooner please let us know.  Also we do try to get detox orders out as fast as possible.
All orders are set up to ship with Canada post, however we do not always use them.  If you specifically need to be sent by Canada Post please let us know.
American and international orders might have extra shipping and duties that are not applied at time of order, we will contact the buyer before finishing the order to discuss additional fees before we ship the order, however all duties and extra government charges are the responsibility of the orderer.