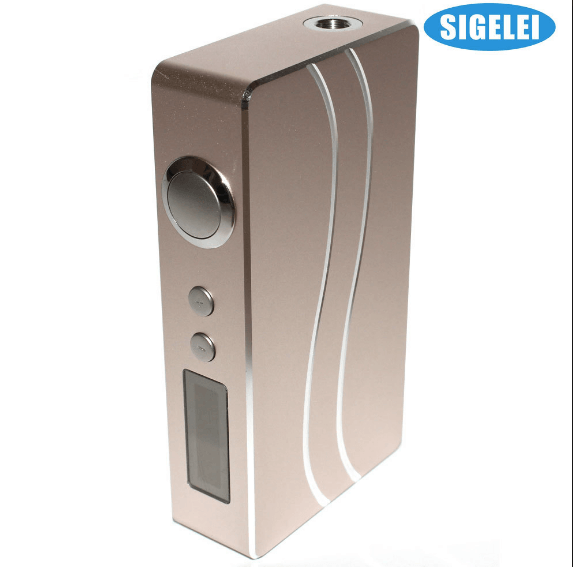 Sigeli 100 Watt Mod Box
101050631217
---
In stock, ready to ship

Inventory on the way
Mod Box Battery
Sigelei 100W Plus is a beautiful variable wattage box mod that can be adjusted from 10W to 100W in increments of 0.1W, and increments of 1.0W after 50W. It can push out a maximum output of 8.5 volts depending on the resistance of atomizer. The 100W Plus will accepts atomizers with a resistance of 0.15 to 3.0 ohms. The box mod accepts two 18650 batteries for long lasting usage. It is recommended to use matching batteries with at least 30 amps. 100W Plus comes with a LCD screen that displays the current voltage, current wattage, the battery life and the ohm resistance of atomizer. The mod automatically detects the resistance of the atomizer and sets the ideal voltage for the atomizer. The device can be locked by holding down the + and - button with on and off feature by pressing firing button five times.

The 100W Plus is a newly designed and upgraded version of the original Sigelei 100W with no sharp corners. The bottom of the mod has vented holes to prevent overheating of the batteries. The atomizer connector pin is spring loaded made from copper to ensure perfect connection. The battery cover uses four strong magnets to keep the cover in place without any screw holes unlike the previous model. The 100W Plus has reverse battery protection and output short circuit protection to prevent malfunctions. It includes a silicone sleeve for exterior protection. It is intended for advanced vapers. Batteries and charger sold separately.
Variable wattage
10W to 100W. Increments of 0.1W from 10W to 49.9W; 1.0W increments from 50W to 100W
Maximum output of 8.5v
Detects resistance of atty with ideal voltage
LCD screen with battery life, atomizer resistance, current voltage and current wattage
510 thread
Spring loaded copper atomizer connector pin
Works with 0.15-3.0ohm resistance atomizers
Uses two 18650 batteries, recommended matching batteries with at least 30 amps
Vented battery casing
Battery cover is secured with four magnets
Reverse battery protection, low resistance protection, and output short circuit protection
Long battery life
Lock mod by holding down + and - for couple seconds
On and off feature by pressing firing button 5 times
Before placing an order through our store, we recommend carefully researching the product you intend to purchase. If you would like any additional information about a product before making a purchase, please contact us. We have a team of friendly, experienced, and very knowledgeable Customer Service Representatives standing by who are happy to help you find the perfect smoking accessory .
If you receive damaged goods (or a non-working unit) in your order, or were shorted anything please contact us within 48 hours, so we can arrange a return and claim. Because of the personal nature of many of our products, we do not accept returns on items unless they are damaged in shipping. However, if you are unsatisfied with any product purchased from us, we encourage you to contact our customer service representatives
Shipping times are an estimate and we will try to get your package to you on time or even earlier.  However due to unforseen circumstances we cannot guarantee that all packages will arrive in the time frame indicated.
All orders made on the website will be sent out on either Tuesday or Friday, depending on time of order.  If you need your order to go out sooner please let us know.  Also we do try to get detox orders out as fast as possible.
All orders are set up to ship with Canada post, however we do not always use them.  If you specifically need to be sent by Canada Post please let us know.
American and international orders might have extra shipping and duties that are not applied at time of order, we will contact the buyer before finishing the order to discuss additional fees before we ship the order, however all duties and extra government charges are the responsibility of the orderer.