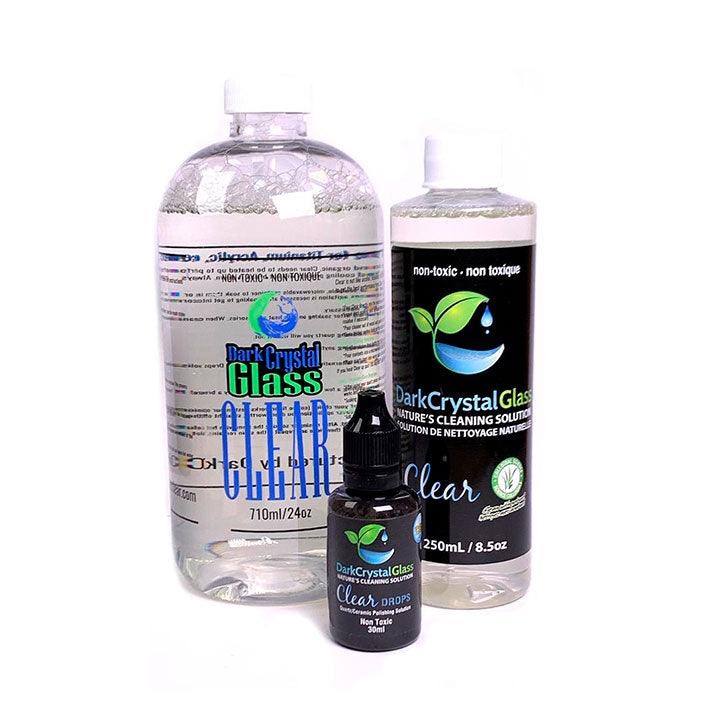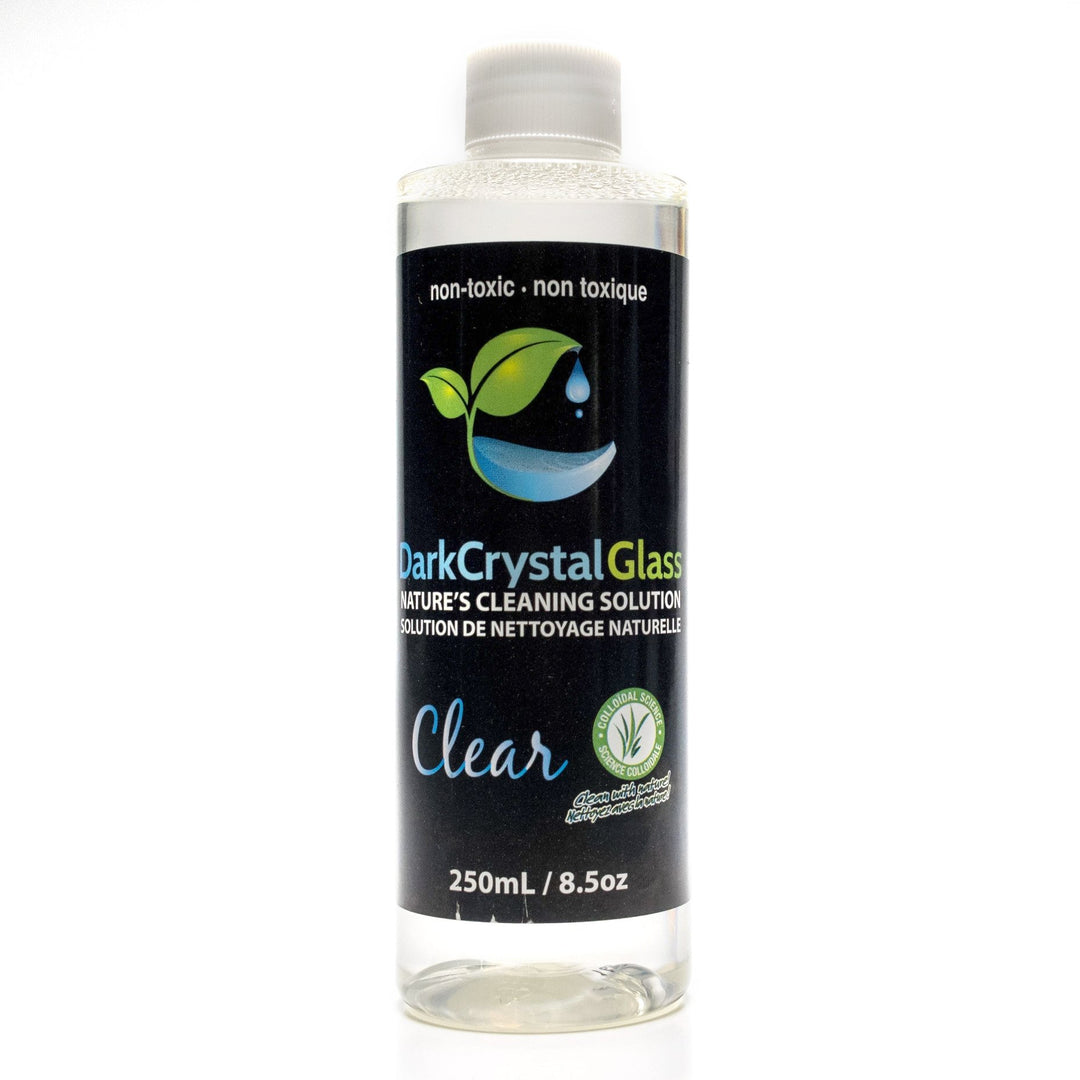 Dark Crystal Clear Quartz Cleaner
813358001649
---
Low stock - 2 items left

Inventory on the way
Dark Crystal Quartz Cleaner
After extensive research and development, DarkCrystal Glass Inc. is proud to offer you CLEAR - a non-toxic, non-carcinogenic, unscented cleaning solution for surfaces such as acrylic, metal, cotton wick and specialty glass. A cleaning product so safe, yet so powerful. By simply soaking the surface in the solution it removes stubborn stains and rinses free leaving no toxic residue. A truly natural alternative. We like that.Since the beginning of specialized surface cleaners, options have generally consisted of chemical based solutions. 
Soaking Directions:
*Pour Clear directly into the vessel you wish to clean, making sure to seal any holes to prevent leakage. For smaller pieces fill up a sealable, microwavable container to soak them in, or heat clear in a saucepan on stovetop.
*Leave item soaking until surface is free of sticky residue. You may assist cleaning with a pipe cleaner or cotton swab. In some cases agitation is necessary after soaking to get into corners plugged with residue. *Carefully shake vessel when full of solution to break down thicker, hard to reach sticky residue if necessary.
*Pour cleaner out of vessel and quickly rinse with hot/warm water to remove any resin/ residue left behind. Repeat this process if necessary.
*Some thicker carbon build up from high heat applications may need to be rubbed with a cotton swab or pipe cleaner to be removed after soaking on high heat accessories. When cleaning quartz accessories you will need to wipe out the built up carbon after soaking.
Microwave Heating Directions:
*Remove solution from bottle first! Bottle is not microwavable.
*Pour contents into a microwavable dish and heat on high for 1 to 2 minutes or until warm. Be careful it could be hot! If you are cleaning quartz you will want it hot.
*Place quartz item into warm bath of hot solution and watch it work instantly.
If you heat Clear up past 100 degrees F, take care to wear hand protection, such as an oven mitt or similar item, as you would when touching anything hot.
Quartz Accessory Care Directions:
*After using your quartz piece, while quartz is still warm, use a cotton swab soaked with Clear to wipe out any stubborn residues. An alternative method with our 30ml Clear Drops polishing drops is to simply add a few drops between uses, wiping with a cotton swab to clean up residue. This process works best if the
quartz is warm.
*Soaking quartz pieces over night when not in use is a great way to keep them clean.
Water additive Directions:
*Add a few drops of Clear to your water chamber to help resin from building up. If you see bubbles you have added too much. By adding a few drops, you'll make cleaning day a breeze! Note: Water may turn cloudy when Clear is added. This is normal. It does not need to be changed when this happens. Water turning cloudy shows that Clear is working properly.
Reclaim Collection Directions:
*To collect the built up sticky residue during cleaning is easy. Simply pour the solution out of your dirty glass piece through a filter of your choice (coffee filter works best in our opinion). Once your filter has collected all the left over residues you can rinse it under the tap to remove any remains of the cleaning solution. No purging is required! Our solution is safe to eat and the residue it collects from dirty glass is ready to use in whatever application you deem worthy, straight off the filter.
Calcium Stain Removal:
*To remove calcium stains on glass you must use the solution hot, leaving the solution soaking in the affected item may also be required. After rinsing or soaking the item with hot solution, some agitation may be required to fully remove the stain. We recommend a hand full of salt and some hot water. After removing the cleaning solution from your stained piece, simply add salt and hot water. Shake the mixture around the stained area, then rinse and repeat if the stain remains. Not all calcium stains are removable.
Ingredients:
Non-chlorinated Water, Karanja oil, Processed Coconut Extract, Processed Kelp Extract, and Processed Extract of Sugar Cane.

Safe on Glass, Quartz, Acrylic, Titanium, Ceramic.
Before placing an order through our store, we recommend carefully researching the product you intend to purchase. If you would like any additional information about a product before making a purchase, please contact us. We have a team of friendly, experienced, and very knowledgeable Customer Service Representatives standing by who are happy to help you find the perfect smoking accessory .
If you receive damaged goods (or a non-working unit) in your order, or were shorted anything please contact us within 48 hours, so we can arrange a return and claim. Because of the personal nature of many of our products, we do not accept returns on items unless they are damaged in shipping. However, if you are unsatisfied with any product purchased from us, we encourage you to contact our customer service representatives
Shipping times are an estimate and we will try to get your package to you on time or even earlier.  However due to unforseen circumstances we cannot guarantee that all packages will arrive in the time frame indicated.
All orders made on the website will be sent out on either Tuesday or Friday, depending on time of order.  If you need your order to go out sooner please let us know.  Also we do try to get detox orders out as fast as possible.
All orders are set up to ship with Canada post, however we do not always use them.  If you specifically need to be sent by Canada Post please let us know.
American and international orders might have extra shipping and duties that are not applied at time of order, we will contact the buyer before finishing the order to discuss additional fees before we ship the order, however all duties and extra government charges are the responsibility of the orderer.