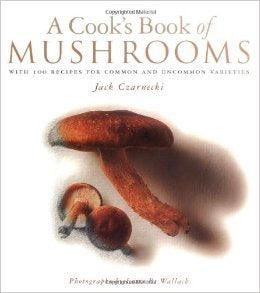 Cooks Book of Mushrooms
9781885183071
---
Low stock - 1 item left

Inventory on the way
Mushroom Cookbook
photographs by Louis.B. Wallach
Portobello, Cremini, Shiitake, and Enoki mushroomsand even morels and chanterellesare commonly showing up in supermarkets and specialty stores these days. Advances in mushroom cultivation have made varieties that were once available only to experienced mushroom hunters now easy for all to find, and a number of mail-order sources provide more exotic kinds. But what should a cook do with all these mushroom varieties? How do you bring out their most distinctive characteristics in the kitchen? In A Cook's Book of Mushrooms, Jack Czarnecki, chief proprietor of Joe's Restaurant in Reading, Pennsylvania, provides the answers. Czarnecki gives an account of his life-long fascination with mushroomshunting them, cooking them, and eating them. He describes the characteristics of the principle edible mushrooms and provides 100 tasty recipes for both the widely available "wild" mushrooms as well as the more exotic varieties. Seven chapters cover the major mushroom familiesButtons and Saucers: The Genus Agaricus; Aristocrats of the Forest: Morels and Truffles; The King and Lesser Nobility: Cepes and Their Cousins; Flowers or Fungus?: Chanterelles; Mushrooms from Wood; From the East; and The Best of the Rest. The recipes include appetizers, main courses, salads, and even breakfast dishes that use mushrooms in starring and supporting roles, such as Morels with Ruffled Pasta, Wild Mushroom and Onion Soup, Barbecued Oysters and Shiitake Mushrooms, and Salmon with Chanterelles and Red Pepper Pur. The authorwhose knowledge of wine rivals his knowledge of mushroomsincludes wine or beer suggestions for most dishes.
Before placing an order through our store, we recommend carefully researching the product you intend to purchase. If you would like any additional information about a product before making a purchase, please contact us. We have a team of friendly, experienced, and very knowledgeable Customer Service Representatives standing by who are happy to help you find the perfect smoking accessory .
If you receive damaged goods (or a non-working unit) in your order, or were shorted anything please contact us within 48 hours, so we can arrange a return and claim. Because of the personal nature of many of our products, we do not accept returns on items unless they are damaged in shipping. However, if you are unsatisfied with any product purchased from us, we encourage you to contact our customer service representatives
Shipping times are an estimate and we will try to get your package to you on time or even earlier.  However due to unforseen circumstances we cannot guarantee that all packages will arrive in the time frame indicated.
All orders made on the website will be sent out on either Tuesday or Friday, depending on time of order.  If you need your order to go out sooner please let us know.  Also we do try to get detox orders out as fast as possible.
All orders are set up to ship with Canada post, however we do not always use them.  If you specifically need to be sent by Canada Post please let us know.
American and international orders might have extra shipping and duties that are not applied at time of order, we will contact the buyer before finishing the order to discuss additional fees before we ship the order, however all duties and extra government charges are the responsibility of the orderer.